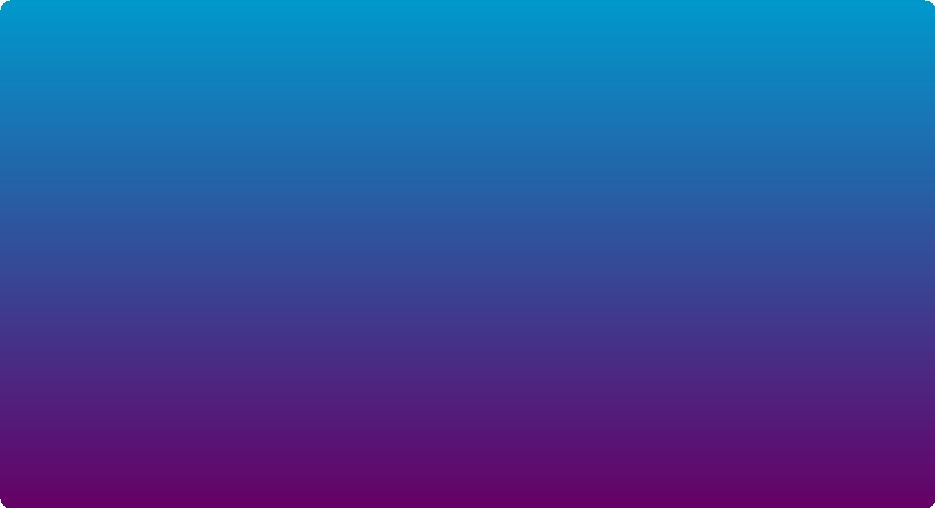 2
0
0
7
2
0
0
6
2
0
0
5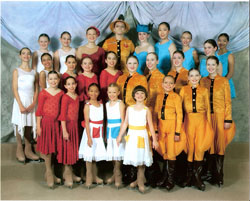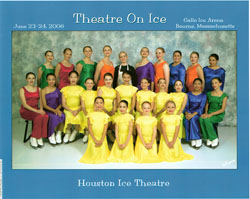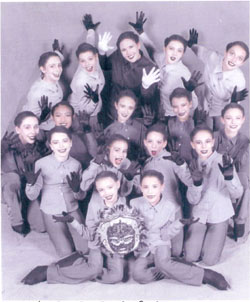 ABOUT THEATRE on ICE ....
Theatre on Ice is the United States Figure Skating Association's newest competitive figure skating event. Teams are judged, not just on dramatic performance, but also on the quality of their skating both as individuals and as a team. Each year the number of teams entering the competition has grown and the quality of the programs, props, and standards of skating have increased dramatically. The team is coached by Shanyn Vallon and Taunya Peper Blanco. Shanyn is a PSA Master Rated National and International Choreographer, Former featured performer of Ice Capades and Holiday on Ice, World National & Junior Olympic Choreographer, & Figure Skating Professional.
HITS trains at the Memorial Ice Center and Sugar Land Ice & Sports Center. In addition to performing at competitive events, the team performs at exhibitions throughout the season.
HITS is a 501(c)(3) organization and a member of US Figure Skating. The team is currently seeking sponsors for the current season.
If you are interested in joining our team, have questions, or would like to be involved as a corporate partner, contact Roger Davis, HITS President at
rogerd@teamassociates.com
or visit
HITS website
.

Contact Us
832-723-3273
shanyn@shanynvallon.com
2007 Novice Free Skate Silver Medalists
2007 Choreographic Exercise Pewter Medalists
2006 Novice Free Skate Gold Medalists
2006 Choreographic Exercise Silver Medalists

2005 Novice Free Skate Gold Medalists
2
0
0
8
2008 US Nationals TOI Pewter Novice Freeskate
2008 International TOI Gold Novice Choreographic Exercise
2008 International TOI Bronze Novice Freeskate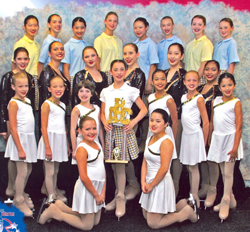 Nina Jiang, Jacie Nguyen, Savannah Miller, Jennifer Wong, Nina Jiang, Mandy Garza, BJ Conrad, Brea Clark, Erin Kaufman, Jennifer Wu, Adit Arya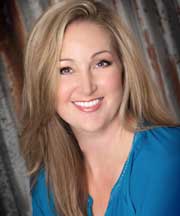 Local Skaters Win National Title
Theatre On Ice Is Newest Competitive Skating Event
POSTED: Wednesday, August 5, 2009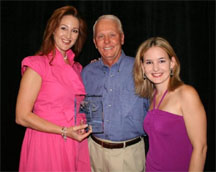 Sugar Land Mayor Jimmy Thompson presents trophy to HITS Coaches Shanyn Vallon and Dorothy Kowalczyk for 2009 National Championship Gold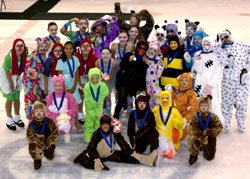 2
0
0
9
2009 US National Novice GOLD Medalist
2009 International Novice SILVER Freeskate
2009 International Novice BRONZE Choreographic Exercise
2009 Theatrical Award Winner -
Best Prop & Scenery Design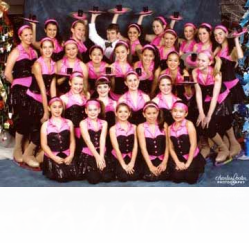 2
0
1
3

Click here for Story and Video
Proclamation presented by Sugar Land's Mayor Jimmy Thompson,
Click here ...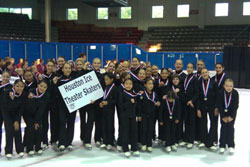 2010 National Junior SILVER Medalists
2010 International Junior SILVER Freeskate
2010 International Junior SILVER Choreographic Exercise
2
0
1
0
Houston Ice Theatre Skaters - HITS
HOUSTON ICE THEATRE SKATERS

2009 Novice National Champions
2009 International Novice Silver Medalists (Freeskate)
2009 International Bronze Medalists (Choreographic Exercise)
Theatrical Award Winner for Best Prop and Scenery Design


HITS STRIKES GOLD!

Congratulations to the Houston Ice Theatre Skaters for winning their first National Championship. This amazing team also captured a Silver medal in the International Freeskate event and a Bronze medal in the International Choreographic Exercise at the annual Theatre on Ice Competition held in Chicago, June 24-26, 2009

In addition to these medals, the team also took home the award for Best Prop and Scenery Design, one of four special theatrical awards presented at the event. This is a testiment to the hard work and creative efforts of the parents of these talented skaters who made this set come to life.

And if that's not enough, this year's stellar performance earned the HITS team the honor of representing the United States at the first-ever World Championship of Theatre on Ice to be held April 22-25, 2010 in Toulouse, France.
C'est magnifique!!

Click to read about HITS in 7/15/09 Article by Corey Roepken

HITS Included in US Figure Skating Promo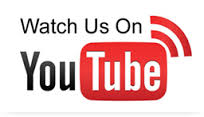 2
0
1
1
2011 National Junior SILVER Medalists

2
0
1
2
2012 National Junior SILVER Medalists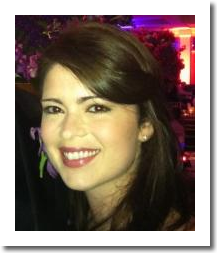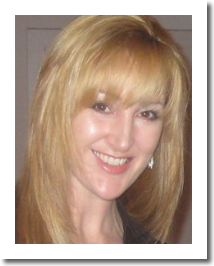 Coach
Shanyn Vallon
Coach
Taunya Peper Blanco
2
0
1
4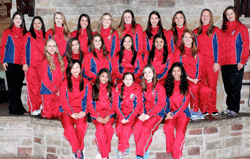 2013 National Junior Pewter Medalists
Special Award:
Best Original Theme / Story Line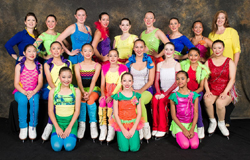 2014 National Junior Team
Our Teams Thru the Years
2013 - Logrono, Spain - HITS Performs "The Peacock"
Click photo to view this outstanding program!
Click on Photo to view Gallery ....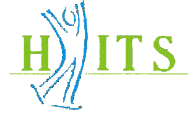 U.S. Figure Skating @USFigureSkating Tweets about this Program,
Click here.